Venue & Hospitality
Hotel Services & Amenities
Audio/Visual Equipment Rental.
Business Center.
Business Phone Service.
Complimentary Printing Service.
Express Mail.
Fax.
Meeting Rooms.
Office Rental.
Photo Copying Service.
Secretarial Service.
Telex.
Typewriter.
Video Conference.
Video Messaging.
Video Phone.
ATM.
Baggage Storage.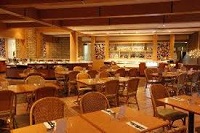 About City
Berlin is the capital and also the largest city in Germany as one of its 16 states, contains population around 3.7 million. Berlin, the German capital, renowned for its exceptional and numerous varieties of attractions, its flourishing cultural scene. Berlin is a city of museums, art, and artists. There are more than 170 museums, including those on the famous museum island, put the treasures of the world on public display. Visitors from all around the world visit Berlin to entertain and enhance their cultural interests in watching performances by leading orchestras, such as internationally celebrated Berlin Philharmonic, And to attend ballets and operas at the three major opera houses. A multitude of theaters specializing in plays, variety, revue and cabaret offer stage entertainment in all its forms.
About Climate:
Berlin has a humid continental according to the Köppen climate classification system.There are significant influences of mild continental climate due to its inland position, with frosts being common in winter and there being larger temperature differences between seasons than typical for many oceanic climates.
Summers are warm and sometimes humid with average high temperatures of 22–25 °C (72–77 °F) and lows of 12–14 °C (54–57 °F). Winters are cool with average high temperatures of 3 °C (37 °F) and lows of −2 to 0 °C (28 to 32 °F). Spring and autumn are generally chilly to mild. Berlin's built-up area creates a microclimate, with heat stored by the city's buildings. Temperatures can be 4 °C (7 °F) higher in the city than in the surrounding areas.
"If you want to see the past, go to Rome. If you want to see the future, come to Berlin."